Do you plan on buying a push or riding mower? Many homeowners wonder which type of lawn mower would be the best for their yard. Generally we'd say that push mowers are the best for smaller yards that are mainly flat. Riding mowers are best for large yards that are flat or have gentle sloping hills. Still not sure about which to purchase next? Here is a list of pros and cons when considering push vs. riding mowers.
Push mower pros –
There are many people who view mowing the lawn as part of their exercise routine. Push mowers allow people to get exercise while they are mowing the lawn. Push mowers are generally cheaper than riding mowers. Moreover, some push mowers have electric engines which makes operation costs less than a riding mower. The size of a push mower makes them easier to store compared to riding mowers.
Push mower cons –
While some people view the exercise as a pro when mowing the lawn, there are some who do not. Push mowers not only require more work than riding mowers, they also are slower and take longer to mow the lawn. If you have a large lawn to mow, push mowers could be impractical when it comes to the time spent mowing the lawn. There are also safety hazards when using push mowers. If you have an electric model you need to make sure that you don't run over the cord.
Riding mower pros –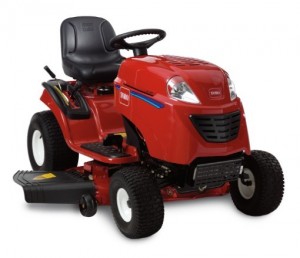 Riding mowers are the best when you have a large yard. They save on time and are more comfortable than push mowers. Riding mowers can also be safer than push mowers. One feature some riding mowers have is that they can only operate while someone is in the seat.
Riding mower cons –
Most riding mowers are more expensive than push mowers. Along with the upfront cost, riding mowers are more complicated and expensive to maintain. It is a lot easier to transport a push mower to get fixed than a riding mower. Riding mowers are also harder to store since they take up much more space than push mowers.