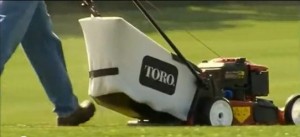 What if a lawn mower could easily adjust to your walking speed and propel itself forward as you mow? With the Toro Recycler 20332 Personal Pace Mower, that's exactly what you get. The Toro Personal Pace® system automatically senses your walking speed and matches your pace. Speed up or slow down, and the mower will follow.
Toro Lawn Mower Review
As one YouTube reviewer said after a year of using the Toro Recycler 20332 lawn mower, "Yep, I still love it. Seems like there's a lot of cheap quality junk out there today in anything you buy. For once, this is a product that just feels like and works like a quality high-end piece of equipment. I can't recommend it more highly! The Personal Pace compared to all other mowers I've ever tried and used nearly sells the mower alone!"
See the Toro Recycler video review below:
Toro Personal Pace 20332 Mower
The Toro Recycler 20332 Personal Pace lawn mower is built for durability with a 190cc Briggs and Stratton engine that starts without any choking or priming. The Bag on Demand feature allows you to switch between mulching and bagging with a quick flip of a switch. The bag stays mounted in either mode.
With a 22″ wide cutting deck you can cut the grass in less time. The built-in mulching system minces grass clippings so fine that you won't even be able to tell they're there. It's also a great way to get a healthy, lush lawn without any extra steps. Just mow and mulch as you go!
Toro Lawn Mowers
Get ready for mowing season with a Toro Personal Pace lawn mower from MowerSource.com! We've got the best prices in the industry, with top-notch customer service and free shipping. Pay no taxes on your new lawn mower! (except in MN)
We offer insured shipping through FedEx and pre-scheduled delivery times to make sure you don't miss the delivery. Compare our prices with our competitors—we guarantee you'll come back to MowerSource.com! Best prices around.