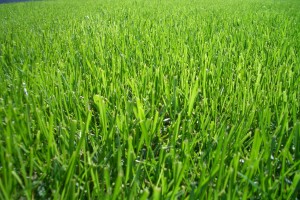 When too much thatch builds up on your lawn, it blocks water and nutrients from fully absorbing into the grass, which makes your lawn start to suffocate and turn brown. By removing the thatch when needed (after it reaches about a half inch in depth), you can keep your lawn healthy and green.
How to Dethatch Your Lawn
You have several options when it comes to dethatching your lawn. First, you can do it yourself by using a dethatching rake or by renting a commercial dethatcher. If you have a small lawn, you can dethatch it manually with a special rake designed to remove the layer of thatch buildup from your lawn. This is the gentlest way to dethatch your lawn, but it also requires the most work on your part and takes a long time to completely cover your entire lawn. That's why we only recommend it for very small yards.
Another do-it-yourself option is to rent a dethatcher from a hardware store or lawn supply store. Since it's a heavy piece of equipment, you'll need a way to load it on a truck and unload it when you get it to your house. A commercial dethatcher is much more efficient and faster than a rake, if you can find a place to rent one. The blade depth is adjustable; typically you don't want it to reach any deeper than a half inch into the soil.
Finally, you can opt for commercial dethatching from a local lawn service. This is the best option if you are not familiar with the process of dethatching or don't want to take the time to do it yourself.
Practical Advice
Before dethatching your lawn, we recommend cutting your grass to half its normal height. This makes it easier to see the thatch layer and how effectively you're raking the lawn.
Mark any hidden objects on your lawn that you need to avoid, such as irrigation heads.
To get the best results, dethatch each section of your lawn twice, going over it the second time at a 90 degree angle compared to your first pass with the dethatcher.
Lawn Care after Dethatching
If your lawn looks a bit ragged after you dethatch it, that's normal. It will take anywhere from 3 to 4 weeks for your lawn to return to normal—and when it does, it should be greener and healthier than before.
Use a rake to remove the thatch loosened up by the rake or machine. Then spread grass seed over areas that are bare. Rake the seeds lightly into the soil.
Fertilize your lawn after dethatching. Keep the grass well watered to help your lawn recover from the dethatching process. Regular watering, fertilizing, aerating, and mowing will help keep your lawn healthy and prevent rapid buildup of the thatch layer.
Lawn Tools
Get your lawn ready for spring with lawn mowers, equipment, and yard tools from MowerSource.com! We have all the equipment you need to keep your lawn healthy and green this season. Get free shipping on all orders to the lower 48 U.S.