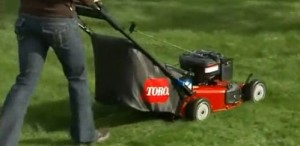 The heat of summer and dry weather can be tough on your lawn. Here are some tips to keep your lawn green and healthy this summer, despite the heat and periods of drought.
1. Don't neglect maintenance.
By keeping your lawn mower blade sharpened and your deck's underside clean, you'll avoid damaging the grass and make your lawn mower last longer. The blade should be sharpened every month, ideally, or at least twice a year. If the blade is damaged, replace it with a new lawn mower blade.
You'll also want to clean out grass clippings and debris from underneath the deck after you're done mowing. With a built-in deck cleaning port—such as on the Toro Recycler lawn mower series—you can easily clean the deck after every time you cut the grass.
2. Mow smart.
If you're using a mulching mower, take your time when mowing. The mower needs extra time to process the grass finely enough to nourish the lawn and make the grass clippings small enough to be invisible. Only mow the grass when it's dry, and overlap each pass slightly for an even cut. Alternate cutting directions each time you mow to disperse the mulch evenly for a healthier lawn.
3. Raise the deck.
Cutting the grass too short in hot, dry weather can lead to brown patches on your lawn. When the summer gets hot, raise the mower deck so that the grass is taller than 3 inches after mowing. While you'll have to mow more often, the longer grass will protect the roots from the scorching midday sun and help prevent the dreaded patches of brown grass.
4. Go easy on the slopes.
Fast speeds and sharp turns on hills can tear up the grass—not to mention, put you in danger of tipping the mower. If you use a walk-behind lawn mower, mow the hill from side to side. With a lawn tractor or riding mower, mow straight up and down (or consult the manual to see their recommendations). With a zero turn mower, you'll need to be especially cautious going downhill.
Mulching Mowers
Keep your lawn green and healthy this summer with a mulching mower from MowerSource.com. We offer walk-behind mulching mowers and mulching kits for riding mowers and zero turn mowers. Best prices around! Get free shipping to the lower 48 U.S. and free lift gate delivery on select zero turn mowers.