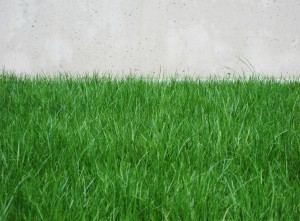 If you want to keep your lawn green and healthy, you'll need to feed the lawn the nutrients it needs to thrive. When to fertilize the lawn depends partly on which part of the country you live in, which type of grass you have, the health of the soil, and other factors. But for most lawns, the following fertilizing tips will get you headed in the right direction.
1. Give it 5.
Most lawns need about 5 applications of fertilizer per year. Start in the spring when the soil reaches about 55 degrees Fahrenheit. This is typically when the lilacs are starting to blossom and the grass comes out of hibernation.
Fertilize again about four weeks later (typically in early to mid-May) and then every six to eight weeks after that. Fall fertilizing is still important, since the roots are still going down, and they need the proper nourishment.
2. Water it.
Your lawn needs enough water in order to absorb and use the nutrients in the fertilizer. Some fertilizers require you to water the lawn before or after applying the fertilizer, for best results. Read the directions before application.
3. Don't overdo it.
Too much fertilizer can backfire on you. Go easy on the application, and only stick to the amount recommended on the fertilizer label. To spread the fertilizer evenly over the lawn, do a once-over with half the recommended amount of fertilizer. Then spread the second half and cover the lawn perpendicular to the direction you spread for the first application.
4. Use the right fertilizer.
Slow-release fertilizers last longer, which means you can wait longer between applications. Don't use slow-release fertilizers in the late growing season, however, since you don't want to stimulate too much growth in late autumn.
Lawn Mowers
Keep your lawn healthy this summer with a new lawn mower from MowerSource.com. We carry only the best brands in the industry: Ariens, Husqvarna, and Toro. Our lawn mowers are guaranteed to last. Mower Source offers the best prices available, with free shipping and excellent customer service to back up our products. Give us a try. You'll be glad you did! Shop for lawn mowers online or give us a call at (855) 636-3381 to speak with someone who can help you find the right lawn mower to meet your needs.