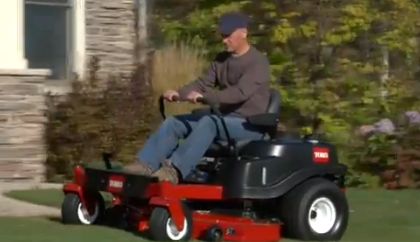 Looking for the best end-of-season deal on a lawn mower? Look no further than the Toro Time Cutter MX5060. This zero-turn bad boy with a Kawasaki engine will get your lawn mowed in record time.
Here are some of the top features for the MX5060 Toro zero turn mower:
Powerful Engine
A high quality zero turn mower starts with the engine. The TimeCutter MX5060 offers the smooth, quiet but powerful performance of a 23 hp Kawasaki V-Twin 726cc engine.
Heavy Duty Transmission
With a zero turn mower this tough, you need a transmission that can deliver the right amount of power. A larger hydrostatic transmission (vs. the SS series) lives up to the performance you expect and lasts for the life of your mower.
Power-Assisted Mowing Height
Need to change the height of the mower? Use the foot-assisted cutting height adjuster to raise and lower the deck for just the right cut. Grass too long? Mow once with a raised deck to cut a third of a blade of grass, then lower the deck and mow again.
Smart Speed Control System
Wish you could save even more time? Set the ground speed in high speed range to mow large open areas quickly, and easily transition to a lower speed for controlled maneuvering around shrubs, landscaping, trees, and garden areas.
Precision Steering
Get smoother starts and stops with the precision steering system using control lever dampeners. If all you've known is the jerky ride of a riding lawn mower, you'll be impressed with the seamless operation and smooth ride of the Toro Time Cutter MX5060.
3 Year Limited Warranty
Toro stands behind their product with a 3 year limited warranty on the Toro Time Cutter zero turn mower. Get protection against a defect in materials or workmanship for worry-free mowing.
Get the best year-end clearance deals on zero turn mowers with the Toro Time Cutter MX5060 for only $3,799! Free shipping and free lift gate delivery included. Act now before our 2013 zero turn mowers are gone!