Believe it or not, but mowing your lawn doesn't have to just consist of boringly going back and forth. Mower Source thinks that creativity definitely extends to lawn mowing patterns, so we bring you some of our favorite designs.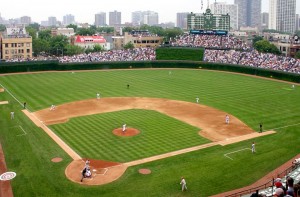 Baseball Field Striped Look
This is one of the easiest looks to achieve, and one of the snazziest ones, too. One of the most notable places to see this design is at Chicago's Wrigley Field, which has become synonymous with the ballpark grass look. To get it, just follow these steps:
Use chalk stripes — at least when you're first starting out — to draw out your pattern. Stripes are notoriously unforgiving when they're completely straight, much like Christmas lights being hung unevenly on eaves.
Start off by mowing next to a fixed straight line, like the driveway or fence. If nothing else, you at least want to get the first stripe completely straight.
Do an up-and-down mow on every other line. For example, on your first stripe, you'll mow to the end of the lawn, then reverse the mower and go backwards to where you started. The parallel stripe will only get one pass-through, and so on.
Once you've finished the straight stripes, start in a corner and start mowing diagonal stripes, using the same method of every-other-stripe-two-passes.
To finish things off, get a lawn roller and tamp down the grass on those stripes that only got one pass-through. The key to the ballpark look is bending grass in different directions. If you don't have a roller, you can adjust the blade height to cut alternating stripes in different heights, but this, obviously, is more time-consuming.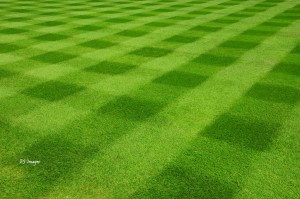 Checkerboard Pattern
This is very similar to the ballpark grass look, except instead of cutting diagonal patterns, you stick to perpendicular stripes. The methodology is exactly the same, but with one key difference: instead of going up and down in one-way stripes and then making a 90-degree cut to mow those stripes, start by mowing right around the edge of your lawn. Once you've cut the perimeter, cut stripes the same way, and then turn the mower around at a 90-degree angle and go perpendicular. Again, you'll want to use a lawn roller to bend the grass blades in a different direction to emphasize the checkerboard look (or adjust the blade height so some squares contain grass blades that are higher than the alternating ones).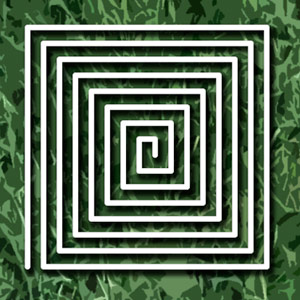 Spiral
This is one of those neat lawn patterns where the design looks really complicated, but the effort is actually ridiculously easy. It's not quite David Bowie-esque from Labyrinth, but pretty close. To get a spiral look, follow this one step:
Start in one corner of your lawn, mow to the edge, turn the lawn mower around 90 degrees, and continue cutting (not touching any previously cut grass) in a reverse concentric circle until you reach the "core" of your lawn.
Double Spiral
Remember how we said a spiral was so easy, you could do it blindfolded with a ferret clawing for your attention (or something along those lines)? Well, a double spiral is a really close second. Just like the first pattern, we recommend using chalk to first plan out your design so you can get it perfectly right.
With a double spiral, what you'll be doing differently is skipping a lane every time you go forward with the lawn mower. So, instead of just pushing your lawn mower forward in an inward concentric circle, you'll be "skipping" a row and leaving a lawn mower's width to go back over in the opposite direction (this is why we recommend using chalk; you won't have to eyeball anything to get it perfect).
Check back next week to see some new — and really awesome — lawn designs you can cut with any old lawn mower. We swear, you don't have to be a Picasso or Pollock, just have the willing spirit to get a little creative with your grass. For all matters more technically-related, though, we don't want to leave you hanging at all, which is why our online catalogue is available 24/7 for you to peruse and select what's missing from your own inventory. And, oh! As a bonus, we've got free shipping AND tax-free prices (except in MN) to make things even easier for you. Don't wait another second to make your neighbors super jealous of your lawn mowing skills.