Last week, we here at Mower Source looked at some of the more basic lawn mowing patterns you can do at home that take almost no time at all. And for the more adventurous types out there, we've got a second instalment that takes lawn mowing up to a whole new level.
Labyrinth
If you want to channel a bit of David Bowie — while also making your neighbors incredibly jealous of your lawn mowing pattern skills — then this is the design for you. There's a fair degree of complexity involved, but nothing that's out of reach for an afternoon of mowing.
Just like the other designs, it's a good idea if you use chalk to plan out your steps beforehand for the most accurate result. It's a bit complicated to explain in steps, but just follow the diagram and you'll have it down pat. And as with the previous lawn mowing patterns, using a lawn roller can help immensely in bending the grass blades in the opposite direction to highlight the pattern.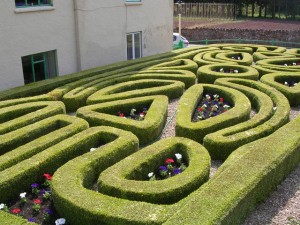 Garden Maze
The easy part is that this pattern is much like the same above, but with a few tweaks. Instead of mowing in a pattern where the lines go in a definite, easy-to-follow direction, you'll want to switch things up so there are a few dead ends. Again, chalking it out beforehand ensures the end result is what you intended.
But to make an awesome garden maze, the tricky bit is planting shrubs that will grow in over time to enhance the garden maze look. Cedar shrubs are great for that because they grow in tall and thin and are easy to maintain, but they do take a few years to fill in to the point where your maze will actually be a maze. It's worth the wait, though!
Peano Curve
Guiseppe Peano was an Italian mathematician known for creating curves/patterns/designs that are linked up together, rather than starting and stopping to achieve the same effect. So in this aspect, mowing your lawn to get a Peano Curve is fairly easy, as you just have to guide your lawn mower in pretty much a single path without stopping.
We know we're probably sounding like a broken record at this point, but getting that piece of chalk out — especially for a more complex design like a Peano Curve — is essential in creating a neat look. We've included this link so you can draw it on your lawn before getting started, and once you sketch it out, following with your lawn mower is no problem at all. Plus, it makes for a really cool aesthetic once you're finished up.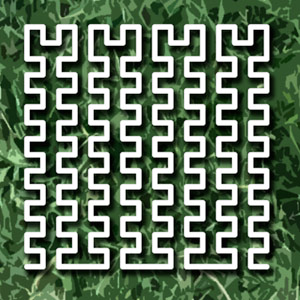 Zig Zag Spiral
This design is closely related to the Peano Curve except instead of mowing in quadrants, you go in a sort of squiggly line in stripes. Start from one corner of your lawn and make 90-degree turns the width of your lawn mower. For example, if your lawn mower cuts a swath three feet long, then you'd cut a patch three feet long, turn 90 degrees, do the same, and keep going in a line until you reach the other end of your lawn. Once you reach the other side, you mow in a perimeter and move inwards until you reach the center of your lawn and presto! You've made yourself a zig zag pattern.
Now that you've got the tips on how to make awesome lawn mowing patterns, the next step is to make sure your machine has all the tools and accessories it needs to get the job done. If you need blades or even a new mower, you've come to absolutely the right place. Check out what you need and enjoy free shipping (and tax-free prices!) on whatever you get.