While we here at Mower Source usually concentrate on the green stuff growing in your yard, what's underneath is just as important. Being able to take a soil sample not only helps you be a better homeowner, but also plant grass that's just right for your lawn.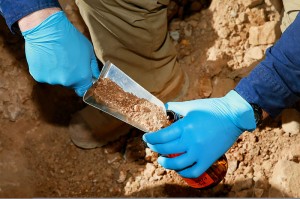 Instructions: How to Actually Take a Soil Sample
Taking a soil sample is something you should be doing several months before planting anything new, whether it's grass, shrubs, trees or flowers. This helps ensure that what you're putting down will actually take, and give you enough time to fix things if the soil's not quite where you want it to be. It's pretty straightforward to take a soil sample, and you don't need any special equipment to do so. Just follow these steps:
1. Identify the area where something's going to be planted, and then give yourself a buffer of one foot extra to allow for the root system underneath to have access to the same type of soil.
2. While it's good to plan months ahead, the only time you'll want to delay soil sampling is if the area's been recently treated, such as with lime or fertilizer. Otherwise, go right ahead.
3. Pick out a tool like a spade, shovel, auger or anything else capable of easily reaching a half-foot into the earth. The only thing you need to remember is to avoid using brass, bronze or anything other galvanized metal so that your soil sample won't be contaminated by those metals.
4. Whatever tool you use, you'll want to go between four to six inches below the surface, and then pull up a profile that's either V-shaped (shovel, spade) or cylindrical (auger, etc.)
5. Take more than one sample in more than one area to get the most accurate reading, and especially so if you're planning on putting in different species, like grass, vegetables or the like.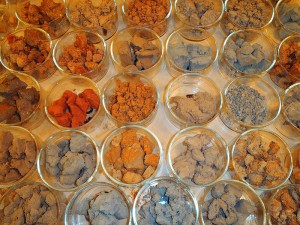 Analyzing the Soil Sample
For this part, you can either analyze the soil yourself or send it in to professionals. If you choose the latter, your local hardware store should have the right kits available. But even if you choose to send it in, it's important to keep each sample separate so you don't mix anything up. Either way, try and pick out non-soil bits, like blades of grass, mulch bits or leaves.
Probably the easiest way of storing the soil samples is to just use zippered plastic bags so it's easy to see, handle and access, but just make sure the soil is dry because wet soil can provide mixed results. To keep them separate, get those white sticker labels, attach one to the front of each bag, and use permanent marker to describe the contents, i.e. "northwest corner, grass soil sample". Be as specific as possible so there's no mix-up later on and you don't have to re-sample the soil.
Reading the Results
The main thing every homeowner looks for is the pH of their soil, and it can fall into one of three categories:
Neutral Soil: When you get a pH reading between 6.2 and 7.2, then your soil falls into the ideal middle category. This is great news, because it means you're pretty much free to plant whatever you want in that area without worry.
Alkaline Soil: This happens when you get a pH reading of above 7.2, but it's not necessarily bad news. You can definitely still put in plants, but they just have to be the ones that thrive in alkaline soil. If that's not the route you want to take, then you can alter the soil's pH by adding sulfur.
Acidic Soil: Naturally, this is when the pH reading is below 6.2, but again, it's not necessarily bad news. Just as with alkaline soil, there are certain plants that can thrive in acidic conditions, and you may choose to pick those for the easiest planting process. But if you have your heart set on certain grasses or plants, then changing an acidic soil pH requires you to add lime to it to balance out the pH.
Taking soil samples is a practice every attentive homeowner gets into, especially considering it's the best way to keep constant tabs on what's going on there. And the more aware you are of your soil, the better you can be at growing an awesome, lush and green lawn. For all your other grass needs, check out our catalogue and enjoy tax-free purchasing (except in MN) and free shipping.